Registration, links to accomodation and local info can be found here:

Registration and local info


Travel
Audio mostly is being held at the Arts Centre Dept of Music (building #33 on main campus map). The University of Nottingham is based across two main campuses away from the city centre. More information about travel to, and between campus' is available here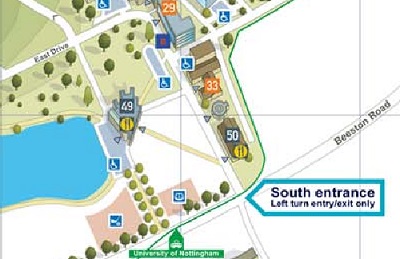 Is the conference building accessible?
The building has a ramp up to the entrance and is accessed through automatic doors. There is step-free access to all rooms, including an elevator for all rooms which are not on the ground floor. We would like to ensure that anyone with a mobility impairment can access the smaller rooms too: please let us know so we can organise groups accordingly.
The South entrance is closest for cars. Parking is available for free (but limited) at the Lakeside Arts Centre (#49) and there are a number of accessible blue badge parking spaces at the Dept of Music. General visitor parking is at the Sir Clive Granger Building (#16) which is a 5-10 minute walk to Music with a number of fairly steep slopes. Disabled access spaces are available in all car parks, if you require a space nearer to the venue, please request the use of one via the for.
There is a tram stop directly outside the Music Dept.
What are the arrangements for presenters?
The presenting area is flat, with no raised stage. A platform for laptops/notes will be provided, and a seat or stool will be available as requested.
Microphones clipped to lanyards will be used to avoid the need to hold a microphone or stay in a particular position/place.
If you would like assistance operating your presentation slides, please let us know and a member of the conference team can assist.
How much walking or standing will be needed?
All main sessions are in the same building so will require minimal walking. All floors are connected by both stairs and an elevator. A floor plan is available on the page.

A small amount of seating will be provided during break and poster sessions.

Evening events will take place offsite. More information regarding these events will be added to the Events page in the future.
How do I tell the organisers about my needs?
Our registration is handled by a central system , if you have specific needs that you would like to tell us about prior to the conference please email them to pat.brundell@nottingham.ac.uk
If you need to tell us about additional requirements or need assistance on the day of the conference, please inform a conference committee member or volunteer who will be wearing an organisers' lanyard. Assistance can also be requested through our reception desk, which will be staffed at all times

Are there hearing loops in the rooms being used for the conference?
Hearing loops will be available in two rooms, the Recital Hall and the main Lecture Theatre.

Will presenters and audience members be asking questions using a microphone?
Yes, microphones will be used by all presenters. Audience members asking questions will be encouraged to use a microphone - where this is not possible the presenter speaker will repeat the question.

Can a student volunteer assist me during the conference?
Student volunteers will be on hand to help attendees who would like some assistance with navigation, meal service, or other accessibility needs. Please ask directly if you would like volunteer assistance at the conference, or email pat.brundell@nottingham.ac.uk

Will there be a quiet room?
Yes, a quiet room will be available for conference attendees who wish to take a break from the main conference area for any reason.

What are the toilet facilities are  at the venue?
There is q gender-neutral toilet on the ground floor, an accessible toilet and gender specific toilets. These can be seen on the room maps here: Map 1 and Map 2

Will there be the option to indicate my pronoun to other attendees?
Yes, conference attendees will be encouraged to indicate their pronoun on conference badges, by selecting a sticker at the conference reception. 

Can I bring my assistance dog?
Assistance dogs are welcome, please let us know in advance.

Will there be large print copies of the programme available?
Yes, large-print copies of the programme are available upon request.

What food service will be provided?
Tea, coffee and water will be provided during breaks, as well as buffet lunch on all days. A conference dinner will be held and can be selected/deselected during registration. Please let us know if you have any special dietary requirements so these can be catered for.

Will the conference be a smoke-free environment?
Smoking is not permitted in any of the conference buildings nor in any of the venues used for conference evening events. Attendees who wish to smoke must do so outside and use the bins provided. It is useful to note that smoking is also not allowed inside public buildings in the UK including restaurants, cafes and bars.

What if I have a medical emergency or health problem during the conference?
All University of Nottingham Security staff are first aid trained. In case of an emergency where an ambulance is required, call University of York security who will coordinate with the ambulance service. The nearest hospital is less than 1 mile (4.8 km) away, and has both an Accident and Emergencies Department and a Minor Injuries Walk-in Department:

Phone: 0115 9513599 (ext 13599 internally) for Security Reception
Phone: 0115 9513013 (ext 13013 internally) for Security 24 Hour Control
Phone: 0115 9518888 (ext 18888 internally) for Emergencies
Email: security@nottingham.ac.uk

Hours: Reception 8.00am to 5.00pm Monday to Friday.
Security Control and Emergencies 24 hours, 7 days a week.
Queens Medical Centre (QMC)
Derby Rd, Nottingham NG7 2UH
For urgent but non-emergency, call the National Health Service (NHS) helpline on 111. Their fully-trained advisors can offer medical advice and can connect you to any further service you may require.

Are there baby-changing or nursing facilities nearby?
Yes, there are dedicated nursing spaces on campus. https://www.nottingham.ac.uk/hr/guidesandsupport/msplapsupport/maternity/athena-swan-parenting-rooms/athena-swan-parenting-rooms.aspx
Facilities are near to the conference venue in the Life Sciences and Pharmacy building interactive campus map (building 23)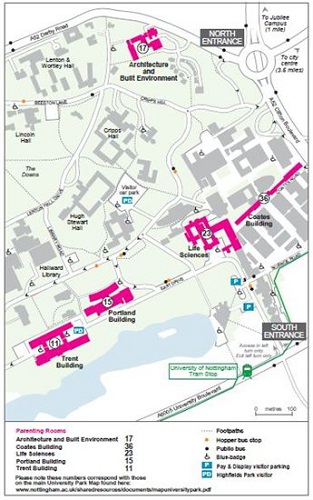 Childcare
Arrangement can be made in advance with Angels by Day which is adjacent to the Queens Medical Centre.
The nursery will charge on a daily basis and is approximately a 10-minute walk from the conference venue. They can be contacted directly on 0115 9789980 (Proprietor Fiona Day)

Is there a prayer room nearby?
Yes, University Park has a number of spaces on campus for prayer and reflection. They are located in the Portland building https://www.nottingham.ac.uk/chaplaincy/rooms.aspx
My question hasn't been answered here, what can I do?
Please email us to let us know if we've missed anything - pat.brundell@nottingham.ac.uk