This year we have two fantastistic keynote speakers who've both been involved in some really interesting and innovative work that brings together audio, design, interaction, making, wearing and performance! 
Technological and Cultural Values in Digital Musical Instrument Design - Andrew McPherson
Every year, many new musical instruments are created in research and industry. New instruments are often promoted for technical novelty, range of sonic or expressive capabilities, or accessibility to novice players. However, most new instruments drop out of regular use after just a few years, while classic acoustic and electronic designs remain ubiquitous in many styles of music, highlighting the central role of human factors in determining instrument uptake.
This talk queries the broader context of why we build new musical instruments and examines some of the values we embed into them. The aesthetic context in which an instrument is created will strongly influence its design, regardless of what technology is used. At the same time, our tools and materials are not aesthetically neutral: they contain subtle assumptions about the form and structure of music, and they make certain design choices easier or more apparent than others. This talk will consider several examples illustrating these technical and cultural influences, concluding with open questions and reflections for creators seeking to engage with the human factors of new music technologies.
Listening To The Material Turn - Becky Stewart
Projected futures of ubiquitous and pervasive computing promised invisible technologies that blended into our surroundings. Instead we have a world inhabited by an Internet of Things where technology still holds very real and tangible forms. But why is this relevant to audio developers and researchers? Audio has been recognised as an important modality for interacting with these Things — see the collections of plastic boxes containing speakers and microphone arrays living on bookshelves around the world. However, voice agents and assistants are certainly not the sole example of audio interaction within embedded computing devices. Digital musical interfaces have also been stepping away from the virtual and exploring physical forms while other artistic fields such as theatre and sculpture are looking towards broadening their own creative palettes with digital audio technologies. Therefore materiality is playing a larger role in interactive audio systems, which is a part of a larger movement of a 'material-turn' in human-computer interaction. As audio engineers, if we want to stay relevant and influence how audio is used in these spaces, then we need to actively engage with physical materials and those who work primarily with them. This talk will look at the specific materials of paper and textiles in order to explore methods of connecting digital audio to material practices.


Keynote Bios 
Andrew McPherson 
Andrew McPherson is a Reader (Associate Professor) in the Centre for Digital Music at Queen Mary University of London. A composer (PhD U. Penn 2009) and electronic engineer (MEng MIT 2005) by training, his research focuses on digital musical instruments, especially those which extend the capabilities of traditional musical instruments. Within the Centre for Digital Music, he leads the Augmented Instruments Laboratory (http://instrumentslab.org), a research team investigating musical interface design, performer-instrument interaction and embedded hardware systems. He currently holds an EPSRC fellowship on the topic of designing interfaces which build on the existing expertise of trained performers.

Notable projects include the magnetic resonator piano (http://instrumentslab.org/research/mrp.html), an electromagnetically-augmented acoustic grand piano which has been used by over 25 composers and performed and recorded worldwide; TouchKeys, a sensor overlay which transforms the electronic keyboard into a multi-touch control surface; and Bela, an open-source embedded hardware platform for ultra-low-latency audio and sensor processing. TouchKeys (http://touchkeys.co.uk) and Bela (http://bela.io) both successfully launched on Kickstarter (2013 and 2016) and are now available to the public.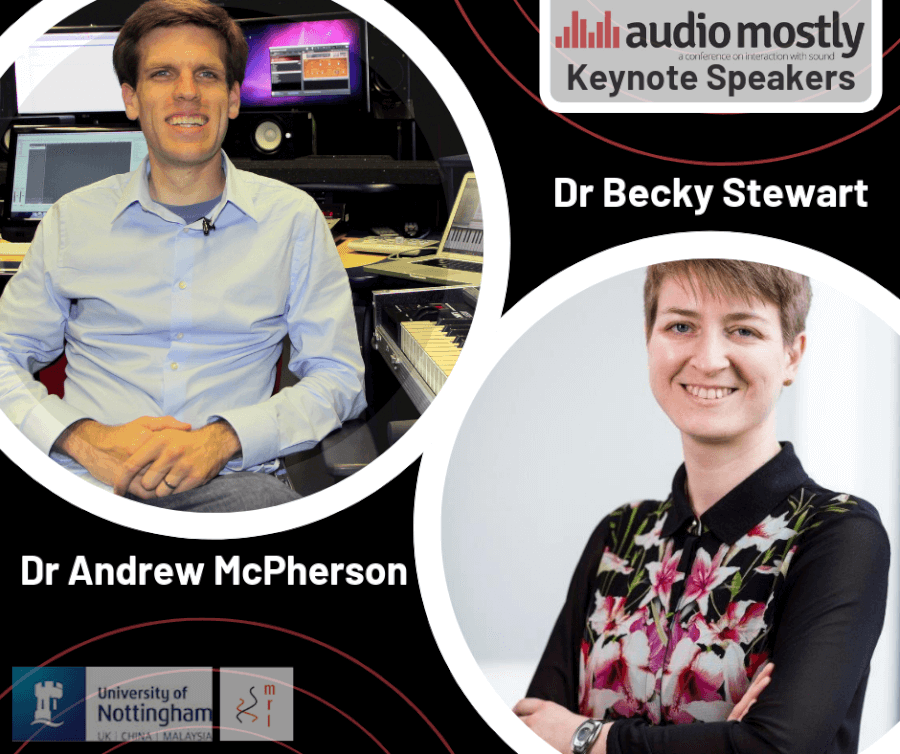 Rebecca Stewart

Rebecca Stewart is a Lecturer in the Dyson School of Design Engineering at Imperial College London and was previously a Lecturer with the Centre for Digital Music (C4DM) and Centre for Intelligent Sensing in the School of Electronic Engineering and Computer Science at Queen Mary University of London. She completed a PhD with C4DM in 2010 on spatial audio signal processing and from 2011-2016 co-founded Codasign, an arts technology education company. Her current research centres around wearable technology with a focus on binaural audio and e-textile embedded systems. She also investigates methods for enabling research innovations to be more accessible to applications designers, helping to accelerate the moving of new technologies from the research lab into the hands of practitioners.