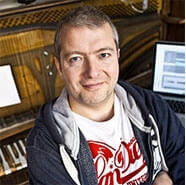 Dr. Alexis Kirke (University of Plymouth, UK)
"Moved by" not "Surrounded by": How Emotional Engagement is Real Immersion
We often hear the term immersion being used to refer to 3D sound environments, or full sensory experiences such as VR. However it is possible for our senses to be contained within an experience physically, without feeling truly immersed in it. Similarly, we can be immersed into audiobooks using a single earbud – or films on a mobile phone screen. In this talk I was discuss what I consider to be true immersive experiences, and give examples from my own research that attempt to investigate emotional immersion.
Speaker Bio: Alexis Kirke is a composer and filmmaker well-known for his interdisciplinary practice (he has been called "the Phillip K. Dick of contemporary music"). He is a member of the Plymouth University's Interdisciplinary Centre for Computer Music Research in the South-West of England, and is composer-in-residence for the Plymouth Marine Institute – the UK leader in Marine research and work on sustainability, marine pollution and conservation. Alexis has completed two PhDs, one in Arts and one in Technology. He has worked as a Project Manager and a Stock Market Analyst (where he developed some of the foundation concepts of the industry textbook 'Optimal Trading Strategies'), and has published articles on Algorithmic Composition and Performance. Alexis is a poet and critic who has written for publications such as Terrible Work, Oasis, Tremblestone (UK) and Transmog (US). He has also been invited to read at Glastonbury Festival, and was editor of the UK's first poetry webzine 'Brink'.
---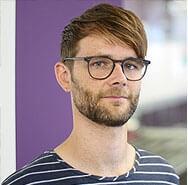 Chris Pike (BBC Design + Engineering, UK)
Dropping the radio in the bath – Immersion in broadcast sound
Immersive audio is often used to describe sound systems that aim to provide a realistic spatial impression. But many of us have been totally immersed in a story being told from a tinny kitchen radio. What do we really mean when we talk about immersive audio and how might new technology be used to achieve it?
In this talk, I'll take you on our journey so far in using "immersive" or spatial audio at the BBC. We've worked with some of our most popular programmes, like the Proms, Planet Earth and Doctor Who, and in a variety of formats, from 22.2-channel surround in theatres to binaural podcasts and virtual reality. But there are still big challenges to applying these new formats in the broadcast industry at scale. We're working to make spatial audio better and more practical for broadcasters. For our audiences, we're still exploring where it can add real value. I'll discuss our understanding of the quality of listening experiences, and which aspects spatial audio technology might influence. Better knowing what we want to achieve for the listener will focus development of technology and content on the most important factors. When it comes to immersion, we think technology can help, but most important is a good story.
Speaker Bio: Chris leads the audio research team at BBC Research & Development, which focusses on technology for immersive and interactive experiences. He also coordinates the BBC Audio Research Partnership, through which the BBC collaborates with world-class universities on audio research, and is active in industry bodies such as the ITU and the EBU. His work has seen the BBC using spatial audio with some of its biggest programmes, such as the Proms, Planet Earth and Doctor Who. He is also a PhD candidate in the Audio Lab at the University of York, investigating the quality of binaural audio systems.